Washington REALTORS® Faculty
All Articles
Margo Willis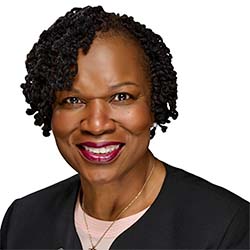 Margo Willis is a Managing Broker in Tacoma, WA, and full-time REALTOR®, with more than 20 years' experience. Originally from Philadelphia, PA she has lived in many locations including MD, NC, SC, Europe, Korea, and Japan before making Washington her home (she's a retired US Army First Sergeant). Margo has a unique way of presenting sensitive, timely topics using humor, interactive exercises, and stories in a thought-provoking, non-judgmental, inclusive way. She encourages participants to share their experiences and truly enjoy themselves in her class. Margo brings usable ideas and techniques that can be put in effect immediately to expand your business and help serve your clients and customers more effectively.
Margo is a certified instructor for the Department of Licensing, Washington State Housing Finance Commission, and Washington REALTOR® Association and has received numerous awards and accolades while instructing locally and nationally. Margo has served on the Board of Directors for the Tacoma Partners in Homeownership and Helping Hands House and is a strong supporter and volunteer for Habitat for Humanity. Margo served as President of the Tacoma-Pierce County Association of REALTORS®, and Tacoma and Washington State Woman's Council of REALTORS®. Margo was the 2011 National President of the Woman's Council of REALTORS® and currently serves on the National Association of REALTORs® (NAR) Board of Directors.
Margo Willis is an entrepreneur, a passionate advocate for Fair Housing Issues and is a Mother and proud Grandmother.
Margo teaches the Women's Council of REALTORS® PMN Designation Courses; NAR's At Home with Diversity and Military Relocation Professional Certifications and can be contacted at: The Margo Willis Team, Red Moon Realty, 10445 Ainsworth Avenue S, Tacoma, WA 98444 (253) 961-2088 or margorltor@gmail.com