Washington REALTORS® Faculty
All Articles
Ken Sax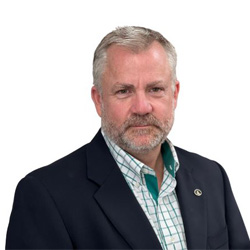 Ken Sax is a Designated Broker for approximately 800 licensees throughout WA and has been in the real estate industry since 1992. He started his career in Southern CA and spent 12 years as a commercial broker selling industrial, office and shopping center properties. When the recession hit in the mid 90s, Ken shifted his focus to apartment buildings and mini-storage facilities going thru the receivership process. His goal was to make these properties profitable then sell them.
Ken later relocated to the Pacific Northwest at the end of 2003 and became a member of the Spokane Association of Realtors in 2004. Ken earned his WA instructor license in 2006 and has been teaching on a regular basis ever since. He has also been continually active in sales and currently owns and runs his 3rd real estate team.
Ken was a major contributor to the revised WA Managing Broker's state exam where he was asked to collaborate with the DOL for this 2 year project. Ken was also a host for his own radio show on KXLY 920am titled "Real Estate Radio with Ken Sax." Later, Ken was asked to host a real estate video pod cast for Spokane Talks Media which is still in production.
Other accomplishments include:
- 2022 Washington Realtor Achievement Award
- 2022 Washington Realtor Vice President Membership Committee
- 2022 President Women's Council of Realtors Eastern WA Chapter
- 2021 Washington Realtor of the Year
- 2021 Steve Flinn Realtor Achievement Award (Spokane Association)
- 2020 Spokane Association Realtor of the Year
- 2018 Washington Realtor Leadership Academy graduate
- 2018 President Spokane Association of Realtors
- 2009 James S Black Memorial Scholarship Award (Spokane Association)
Ken is a father to a boy and girl both adopted from China as infants and who are now young adults. In his spare time, Ken is a stand-up comic, musician and an avid reader. He also enjoys camping, travel, meeting new people and has been boxing since 1993. One of Ken's favorite quotes when it comes to education is, "If you think education is expensive, try ignorance.